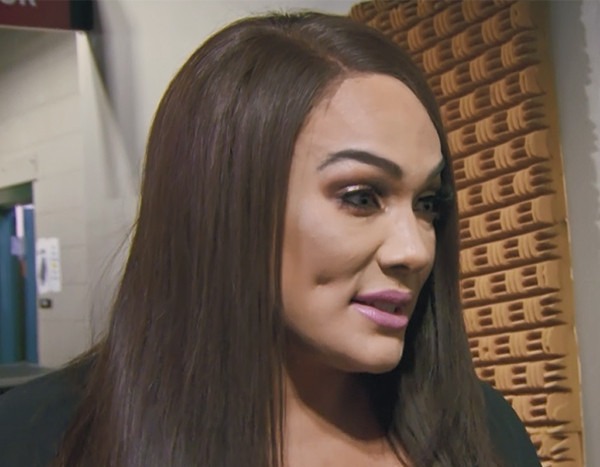 Tapping out is a last resort.
Punches were thrown during Tuesday's season premiere of Total Divas, and not just in the wrestling ring. On the afternoon of WWE's annual Royal Rumble—a "last competitor standing" event involving 30 of the brand's female superstars—Nia Jax was getting cold feet. Both she and colleague Carmella (who made her return to the Divas cast tonight as a series regular) were due to participate in the Rumble's upcoming group match, and Nia was dreading it.
"The fact that I have to wrestle with Carmella…it sucks," she lamented backstage, adding, "I don't respect her work." But Nia's issues with her co-star and wrestling mate were personal too. Chatting with fellow WWE wrestler Tamina before the event, the athlete went on to suggest that Carmella was "afraid of getting hurt" in the ring, or at least tended to avoid potentially injurious contact at show time.
"I feel as though Carmella has kind of strayed away from what we're trying to express to the world…that we're more than eye candy," Nia explained, referencing the relatively recent strides WWE's women's division has taken in securing representation more comparable to their male counterparts. During Tuesday's episode, the Divas were looking ahead to WrestleMania, which took place last April and was the first time the event featured a women's match as its headliner. 
Of course, there's no rule book that says formidable wrestling moves and enviable fashion sense must be mutually exclusive—the Divas are proof —so what's really going on here?
"For some reason, I just don't find any genuineness in you," Nia told Carmella point-blank when the latter eventually approached her, still pre-Rumble, to address the increasingly palpable tension. "So, I don't really like being around you. Does that make sense?"
"No genuineness?" Carmella was floored. Recounting the exchange with friend and new Divas addition Sonya Deville (who, like co-stars Nattie Neidhart, Trinity Fatu and Ronda Rousey, was preparing for her stint in the arena as well) later on, she added, "I'm so blown away."
Given the occasion, Carmella didn't have much time to process Nia's comments before both women were elbows-deep in the Rumble. Nia entered the ring earlier on in the knockout program, but was still holding her own amid dozens of peers when Carmella moon-walked in. "She wants to say that my kicks don't look good, that they're not impactful. I'll show you impactful," the SmackDown personality smirked, just as footage of her foot colliding with Nia's bottom lip for real rolled across the screen.
"Carmella kicks me straight in the face and actually busts my bottom lip. But I'm OK with it," Nia recalled, smiling. "I deserve it."
But much as we'd like to have seen some kind of reconciliation unfold after the rumble, prickliness between the duo only kicked up from there. Days later, the remains of Nia's frustrations surfaced during a brunch meant to celebrate the women's latest history-making moments: Nattie set the record for longest time spent in the Rumble ring (almost a full hour), while Nia became the first person to enter two Rumbles in the same night (she surprised fans by making a very memorable appearance in the men's event after Carmella eliminated her).  
"The worst case scenario with this brunch is…Nia flips a table, Carmella gets on her and starts punching her in the face," Nattie joked. "I feel like this is going to become something out of a horror movie."
Thankfully, none of the above actually transpired. But reminiscing about record-setting did lead Nia right back into the crux of her beef with Carmella.
"We're trying to break barriers and we're trying to tell people we can do things and we can make history and we can be the main event," she said pointedly from across the restaurant table. "And it's not gonna work if we're sitting there and we're running away from a hit."
See Carmella's defense in the moment—and find out how the heat with Nia wrapped up—in the full recap video above! Plus, catch up on Ronda's parenting dilemma and get the low-down on Sonya's love life too.
Total Divas returns tonight at 10 p.m., only on E!