Hollywood is getting handcuffed in the name of climate justice. 
A month ago, Jane Fondaannounced her commitment to focusing on climate change by moving to Washington, D.C. and founding "Fire Drill Fridays," demonstrations set to take place every Friday through to January 2020 with each one focusing on a different climate issue. To accompany the demonstrations, the Oscar winner will host a live-streamed "Teach-In" with experts for people to virtually attend on Thursday evenings. 
"As Greta Thunberg said, 'Our House Is On Fire,' and we need to act like it…Every Friday through January, I will be leading weekly demonstrations on Capitol Hill to demand that action by our political leaders be taken to address the climate emergency we are in," a website for the event reads. "We can't afford to wait."
The 81-year-old star, inspired by fellow activists like Thunberg and recurring initiatives, noted she will be there "rain or shine, inspired and emboldened by the incredible movement our youth have created. I can no longer stand by and let our elected officials ignore—and even worse—empower—the industries that are destroying our planet for profit. We can not continue to stand for this."
The organization's demands include a Green New Deal, respect of indigenous land and sovereignty, environmental justice, protection and restoration of biodiversity and implementation of sustainable agriculture.
Fonda has kept her word, appearing every Friday at the demonstrations thus far in a bright red coat and, every time, ending with an arrest for unlawfully demonstrating.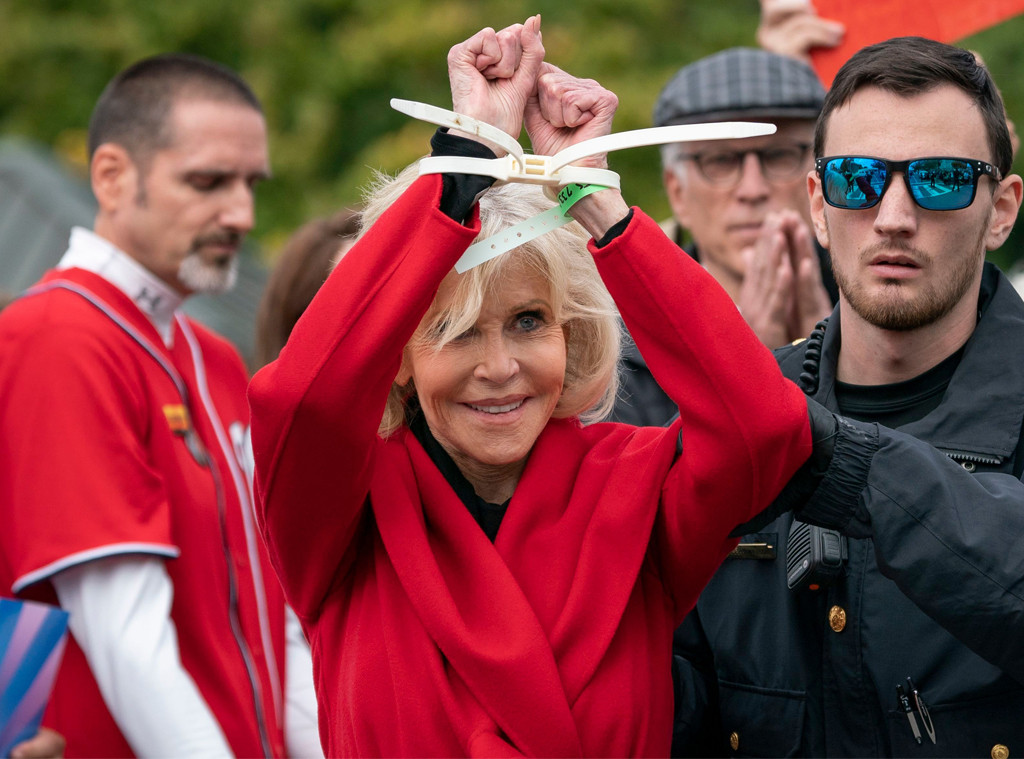 J Scott Applewhite/AP/Shutterstock
However, Fonda is not the only star who has been handcuffed as a result. Several fellow celebrities have joined the actress over the weeks, including Grace and Frankie co-star Sam Waterston and Ted Danson, plus actresses June Diane Raphael and Marg Helgenberger.
On Nov. 1, Catherine Keener and Rosanna Arquette were shown in photos online being arrested with Fonda during their protest. "At approximately 1:10 p.m., the United States Capitol Police responded to unlawful demonstration activity in the Atrium of the Hart Senate Office Building," Capitol Police confirmed to E! News. "Forty-six individuals were arrested and all were charged with D.C. Code §22-1307, Crowding, Obstructing, or Incommoding."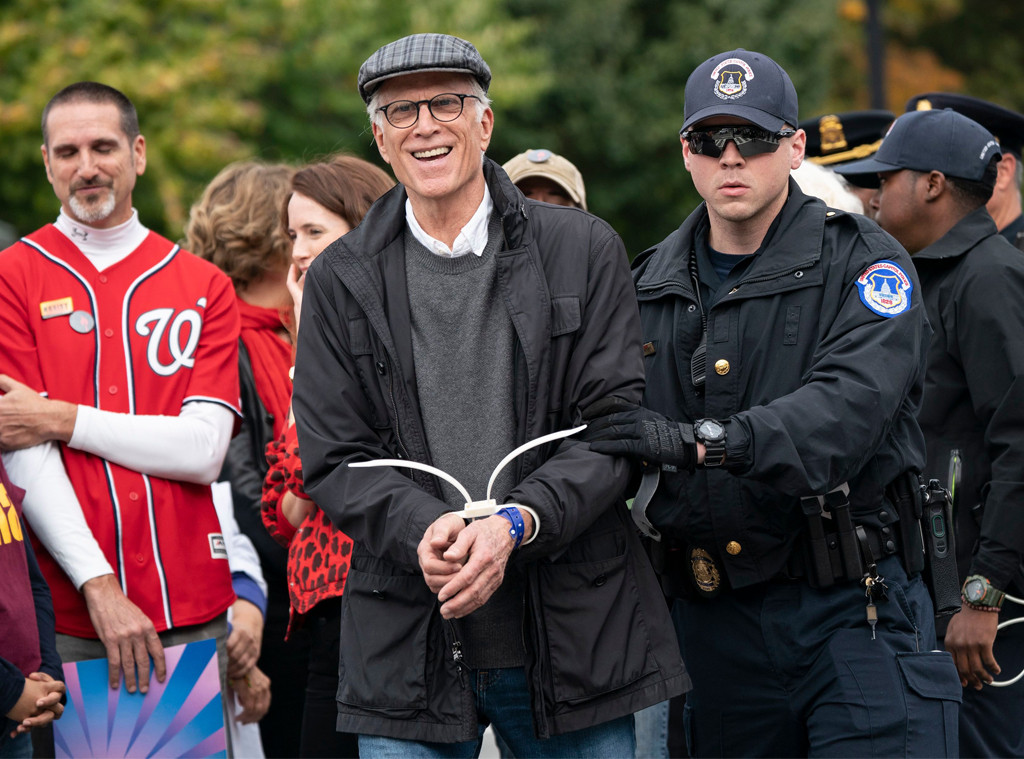 J Scott Applewhite/AP/Shutterstock
"Climate change is a women's issue! And women are at the heart of climate solutions," the Fire Drill Friday Instagram account read in regard to the women-focused demonstration. "Around the world, women and girls are leading climate solutions, from stopping deforestation and improving agricultural practices to leading Climate Strikes and running for office as the kind of real climate leaders the world needs."
On Nov. 22, Fonda was one again arrested during a protest. This time, joining her fight was Piper Perabo, Diane Lane and Amber Valletta, according to The Hollywood Reporter.
The following week, on Black Friday, she was once again out on the street protesting alongside comedian Paul Scheer and Young Sheldon star Iain Armitage. While Scheer was among 37 taken away in handcuffs, according to TMZ, the 11-year-old was not arrested.
"It's FireDrill Friday!!! @FireDrillFriday See you at Congress at 11!" the young star tweeted. "Act as if our house is on fire—because it is!"
We'll just have to wait and see which famous faces turn up next demanding climate justice. 
(This story was originally published on Friday, November 1 at 2:03 p.m. PT)