On 6 October, Titan Books is releasing Someone's Listening, a debut crime novel by American author Seraphina Nova Glass. Based in Texas, Seraphina is a script writer who teaches playwriting at the University of Texas, Arlington. She's taken that background in film and theatre, added inspiration from the world of psychological thrillers, and put together her debut. Someone's Listening is both the title of her book, and the title of a podcast broadcast by her Protagonist, Dr Faith Finley, who works with victims of domestic abuse. We decided to talk to the author to find out more about what led to her first novel.
What inspired you to write your first crime novel?
In October of 2018, I read my fist thriller. It was a Ruth Ware novel. I like thriller movies, but never meandered outside literary fiction much as a reader. I was immediately in love and said, "That's what I am going to do. I'm gonna write a thriller." I finished Someone's Listening ten weeks later. 
A few weeks after that I signed with Folio Literary Management, and my agent quickly sold it to Harper Collins, Graydon House imprint. 
It's still surreal. I had been writing screenplays and had a bunch of Hallmark scripts under option, and I was getting nowhere, really. It was just a lot of waiting and disappointment, but I found that writing thrillers is exactly where I want to be. My second book will come out next summer, and I'm about halfway through writing my third book now.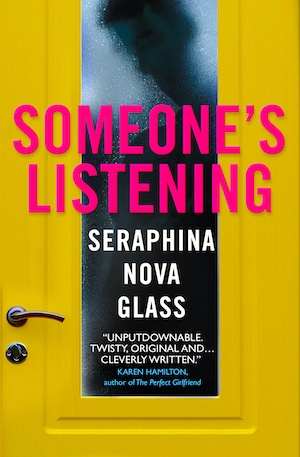 What is Someone's Listening about?
Faith Finley has survived a lot of trauma in her own past, so in her current profession, she helps victims of abuse. Her career is just starting to take off when a very public sex scandal stops it in its tracks. She hopes her husband, Liam, believes her when she says she says the accusations against her are lies, but when he disappears and she becomes a suspect, her world falls apart.
She doesn't handle the crisis well. It's easy to give advice to others, but as things escalate, she leans on alcohol and pills to cope with her anxiety and her worst fears. She decides to take matters into her own hands and search for the real reason behind Liam's disappearance. The closer she gets to the truth, the more she is putting herself in danger. 
Psychological thrillers are very popular right now with readers and publishers. How did you go about making your novel stand out?
You know, I wasn't aiming to make it stand out, I guess. I'm sure now that I'm writing multiple books I may have that as a priority, but as a first time novelist, I was just trying to go with my instincts and create a character I wanted to get to know and a world I wanted to hang out in while I wrote the piece. The goal was to be true to my voice and style and hope that would be enough.
Tell us more about Dr Faith Finley, psychologist and survivor of abuse who now helps other women in a similar position?
Faith is suffering an unthinkable loss. I think everyone knows what loss feels like, and we all handle it differently. Simply because Faith is a psychologist doesn't mean she has the coping skills to handle the love of her life missing on top of the scandal and suspicion surrounding her. Her occupation also doesn't mean she doesn't struggle with addiction and might turn to sleeping aids or booze when her life is falling apart the way many people might do to numb some of the pain.
She's carved out a great career for herself and enjoyed some local fame, but ultimately, she is going through the darkest time of her life. When someone critiques her as 'not likeable' I think, 'Would you be very likeable in the midst of this much loss and uncertainty?' I don't think she needs to be a protagonist who does and says the right things to be the hero of the story. I feel it's not my job to make her likeable, rather interesting. We root for her because she screws up and makes desperate and flawed decisions because she is desperate and flawed. We root for her because she's out there risking quite a lot to uncover the truth about her husband despite the danger, and who wouldn't want that kind of love – someone who would go to any length for their partner no matter what the cost?
Do you agree that every genre of fiction has its own identifiable set of rules, whether it's crime, horror or romance for example? How much do you find these helpful in your own writing, and how much do you enjoy breaking them?
I would agree that in commercial fiction, each genre has its own rules for the most part. I like rules and structure, maybe because I teach. I repeat them over and over in classes. Raise the stakes in your story, create memorable locations, throw rocks at your characters, intention and obstacle are key. I follow most of what I teach, but there are things I like to experiment with. I'm not really sure if it's a rule, but I rarely read any humour in thrillers because it feels out of place perhaps, but my background is mostly rom-com or dark comedy, so I like adding some moments that are funny or awkward in the given circumstance because that's life, and for me it adds a layer of relatability and realism to the story.
What's next for you?
My next book comes out summer 2021. It was titled The Seduction, so you'll notice an excerpt in the back of Someone's Listening with that title, but that has changed. It's officially titled Such A Good Wife.
It's another mystery revolving around a woman in small town Louisiana who had dreams of being a scholar, and having a career as a writer, but she puts that on hold when she and her husband have their second child and he has special needs. She finds herself a stay-at-home mom which she loves on one hand because she adores her family, but she also finds it hard to see herself in this role she never expected. When she meets a semi-famous romance writer, she feels guilty at how taken she is with him – jealous of his jet-setting life and freedom. She gets too close to him and makes a string of bad decisions that put her marriage and family in danger, and someone ends up dead.
Someone's Listening is published by Titan Books in the UK on the 6 October 2020 in print and for Kindle. It is already available in the USA in print, Kindle and audiobook.