For all its peculiarities and problems, 2022 has been another excellent year for crime fiction, particularly for fans of puzzle mysteries, both new works and republished classics. The five books – four novels and one short story collection – I've selected as my top five reads of the year all feature tightly plotted and fiendishly perplexing conundrums, and they're all sure to get your little grey cells working again if you happen to fall into a festive food-related torpor.
5 – Death of a Bookseller by Bernard J Farmer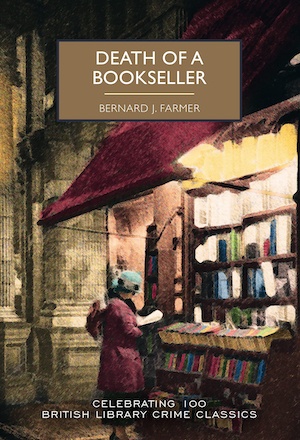 After being out of print for decades, the work of Bernard J Farmer made a welcome return in 2022 when the British Library published Death of a Bookseller as the 100th title in the Crime Classics series. It sees Farmer's series detective, Sergeant Jack Wigan, take up book collecting as a means of relaxing after a difficult day on the beat, only to discover the corpse of a fellow collector arrayed in such a way as to suggest the possibility of a supernatural aspect to the murder. The ensuing investigation allows Sergeant Wigan to dig deep into both the book trade and the criminal justice system of the 1950s, thereby revealing the follies, tragedies and triumphs of the two institutions. He encounters a host of peculiar and sometimes fanatical characters during the course of his enquiries, meaning that there is plenty to untangle when getting to the heart of the mystery. Read the review here.
Order now on Amazon or Bookshop.org
4 – The Trust by MH Eccleston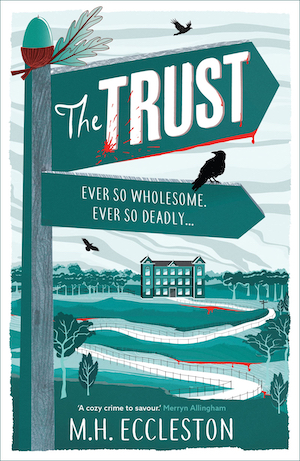 MH Eccleston launched a delightful new cosy mystery series with The Trust, which follows conservator Astrid Swift as she attempts to rebuild her life after losing her fiancé, her best friend and her job all in one day. She relocates to the Dorset village of Hanbury and the decrepit houseboat she inherited from her estranged uncle, although it is her hastily accepted job as an art restorer at Sherborne Hall that truly launches her new life as an amateur sleuth. When Astrid discovers the body of a local antiques dealer in the Hall's disused ice house but the police chalk his death up to an accident, she is certain that there's far more to it. Given the eccentric cast of locals and English Trust volunteers that Astrid encounters, there are plenty of laughs and warmth in The Trust, but there are also some surprisingly serious aspects… and not just the deaths. Eccleston has crafted a complex first puzzle for Astrid to solve, which sets the scene for her to appear a realistic and engaging ongoing cosy series. Read our review here.
Order now on Amazon or Bookshop.org
3 – Dear Little Corpses by Nicola Upson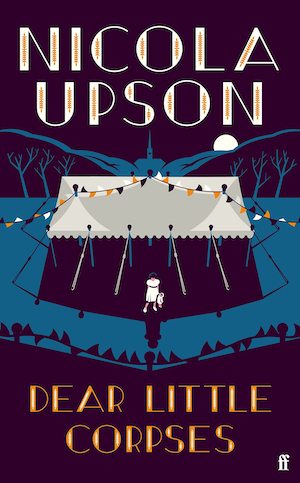 Dear Little Corpses is the 10th book in Nicola Upson's atmospheric 1930s-set series featuring Josephine Tey, one of the doyennes of Golden Age crime fiction, as an amateur sleuth as well as a best-selling author. This time round it's 1939 and the true scale and horror of the recently begun war are starting to become clear. For her part, Josephine's rural idyll with lover Marta Fox is rudely interrupted by the war effort when a young girl goes missing amidst the chaos caused by the arrival of busloads of evacuees. Despite her best intentions, Josephine gets roped into investigating the disappearance alongside her old friend DCI Archie Penrose, which entails the pair poking into deeply disturbing matters in both the present and the past. Upson blends fact with fiction in a masterful way, crafting a troubling plot that envelops the characters in a darkness that somehow manages to exceed that associated with the war. It all makes for a powerful story that delivers an emotional punch to the gut on several occasions as the wider world starts to disintegrate. Read our review here.
Order now on Amazon or Bookshop.org
2 – Marple: Twelve New Stories
Revisiting a classic series of short stories and novels and bringing back to life a much-loved character is undoubtedly a difficult task, but the 12 authors who contributed to Marple: Twelve New Stories all did a marvellous job of just that. Among the perplexing new mysteries facing Miss Marple, Val McDermid considers the murder of Reverend Clement's former maid in The Second Murder at the Vicarage, while Ruth Ware presents a baffling theft set against a festive backdrop in Miss Marple's Christmas. While the 12 stories included in Marple differ in terms of their setting, style and substance, they all succeed in capturing the essence of Agatha Christie's famous sleuth and crafting intriguing puzzles for her to unravel. Miss Marple's determined nature and passion for justice and retribution remain the same, although she is now able to pass comment on more contemporary matters and express her belief in equality. Miss Marple has always been one of literature's greatest amateur detectives, and it's a real treat to follow her investigations once again. Read our review here.
Order now on Amazon or Bookshop.org
1 – The Twyford Code by Janice Hallett
Janice Hallett turns her attention to the sinister side of classic children's literature in The Twyford Code, an innovative mystery with a tone strangely reminiscent of Golden Age crime fiction despite principally being written in the form of transcriptions of 200 audio files recorded on an old iPhone by ex-con Steven Smith. Around 40 years ago, Steven found a copy of Six on Goldtop Hill by Edith Twyford and took it to school, only for the book to be confiscated by English teacher Miss Isles due to its objectionable content. Nevertheless, Miss Isles later took her English class on an unauthorised trip to Twyford's former home in Bournemouth. As the early audio recordings make clear, Steven remembers going on the trip and arriving home very late at night, but not what actually happened throughout the day. The only thing he's sure of is that he never saw Miss Isles again. The reliance on transcribed conversations allows Hallett to explore how different people remember the same events differently, which makes the presence of at least one unreliable narrator highly likely. Miss Isles' disappearance is a perplexing affair and the idea of Twyford passing coded messages to the Nazis via twee children's books is a bonkers but engaging concept. Read our review here.
Order now on Amazon or Bookshop.org
Read about my top five crime books of 2021 here.