Stepping back into the mists of time to try and solve a mystery is a favourite topic for the Icelandic author Arnaldur Indridason and this is a popular branch of crime fiction for readers too, so it's great to see the second book in his series about the aging detective Konrád in our roundup. The past also plays a role in the latest from Alex North, Nicci French and in a debut by Joshua Crosson. Plus, we bring you Robert Dugoni's new legal thriller here in this week's new books column.
The Girl by the Bridge by Arnaldur Indridason
Are we about to begin a new rush of 'girl' book titles? If so, it's only right that the bestselling Icelandic author of all time should be leading the charge! Arnaldur Indridason's Detective Konrád is back, and tasked by an elderly couple to find their wayward missing granddaughter. He's still consumed with finding his own father's murderer, but the now retired Konrád agrees to investigate the case. But he's about to be derailed by a strange connection to a little girl who drowned in the Reykjavík city pond decades ago in this haunting thriller. Translated by Philip Roughson, The Girl by the Bridge is out on 23 March.
Order now on Amazon or Bookshop.org
The Half Burnt House by Alex North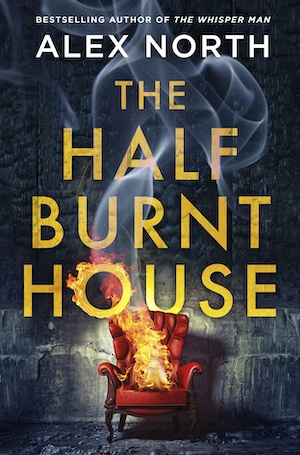 Alex North's debut The Whisper Man grabbed him a huge following among fans of the psychological thrill. Now the author also known as Steve Mosby is back with The Half Burnt House, out now. Katie Shaw always looked out for her younger brother Chris – until one carefree afternoon when she left him alone and he was savagely attacked. He hasn't spoken to her since. Katie is now a mother, and determined not to repeat her mistakes. But a brutal murder in a half-ruined house that once belonged to a notorious local serial killer brings the police calling. Chris is their prime suspect and they want her help. Can Katie prove Chris's innocence and, in doing so, put right the wrongs of their youth?
Order now on Amazon or Bookshop.org
Her Deadly Game by Robert Dugoni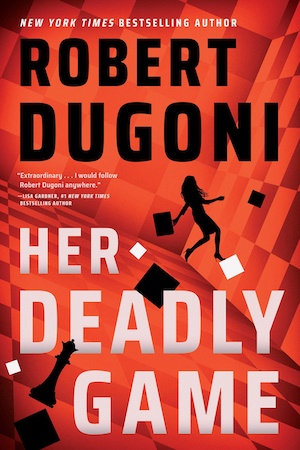 A high-flying Seattle prosecutor has a fall from grace in Her Deadly Game by Robert Dugoni, out on 28 March. Keera Duggan is forced to return to her father's failing criminal defence law practice after an office romance turns sour. Keen to improve the fortunes of the family business and restore her reputation, Keera jumps at the chance to play in the big leagues when she's retained by Vince LaRussa, an investment adviser accused of murdering his wealthy wife. But as she and her team follow the evidence, they uncover a complicated and deadly game that's more than Keera bargained for, turning the case upside down.
Order now on Amazon or Bookshop.org
The Favour by Nicci French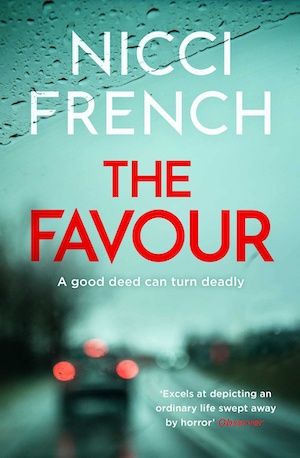 Ah, first love! The moment when your eyes meet and you know you've found The One, the person you'd do anything for. Time to take off the rose tinted specs – this is crime fiction after all… and with Nicci French in the driving seat you can forget the hearts and flowers. Jude has happy memories of Liam, her first proper boyfriend and the one that got away. Now he's back and about to cause all manner of problems for our protagonist, a successful doctor and happily engaged. But Liam is desperate and has a favour to ask – how can she say no? The Favour is out on 30 March.
Order now on Amazon or Bookshop.org
Limelight by Joshua Crosson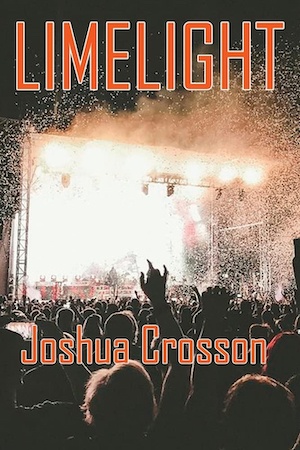 The high price of fame takes centre stage in Joshua Crosson's debut novel, Limelight, set in Los Angeles and out now. Chris Flowers is one of the world's biggest pop stars, someone who wants nothing more than to keep playing shows and creating art for his fans. Chris is close to finishing his next album and only days from playing a major gig when he receives a fateful phone call from a stranger. The disembodied voice threatens to expose a dark secret from Chris's past that could ruin him. Just how far is Chris prepared to go to stay at the top of the tree? All will be revealed in this twisty thriller.
Order now on Amazon
Read about last week's new books here.