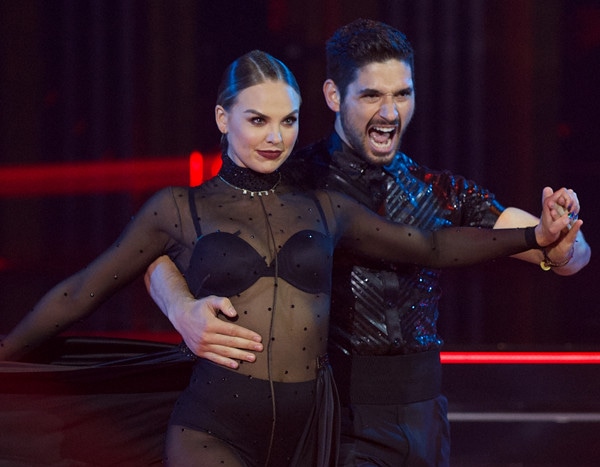 The rage room worked for Hannah Brown.
On Dancing With the Stars, The Bachelorette star was taken to a rage room by her pro dance partner Alan Bersten in an effort to channel her feelings of passion into the paso doble. There, Hannah took a bat to glass bottles and said they were her ex-boyfriends. Who was she talking about?
"Just guess," she told E! News. "I'm not going to say. I mean, you can think of a few heads that I could probably have on those bottles."
"There weren't enough bottles," Alan said.
"Crushing those bottles and the plates was really satisfying and it was really fun. It was a way to get all that frustration out and then to be able to use it in the dance as well," Hannah said.
It was a success, with Hannah and Alan getting a 32 out of 40 for their dance to "I Love It" by Icona Pop and Charli XCX. Alan said she was able to channel her frustration into passion and control it on the dance floor to receive the high score.
"She controlled it so well and I'm just so proud of her," Alan told E! News.
The performance was a redeeming one compared to last week. The duo got a 21 for their rumba to "Hold On."
"I have noticed something about me that—I'm always nervous and get this weird energy before, but when I know I have the potential to just, like, crush a dance, I'm so much more," Hannah said. Alan told us she watches videos before she goes out.
"It was great to go out there to show everybody what I've been working so hard for. This dance has taken everything out of me," she said.
Click play on the video above to hear more. Dancing With the Stars airs Mondays, 8 p.m. on ABC.