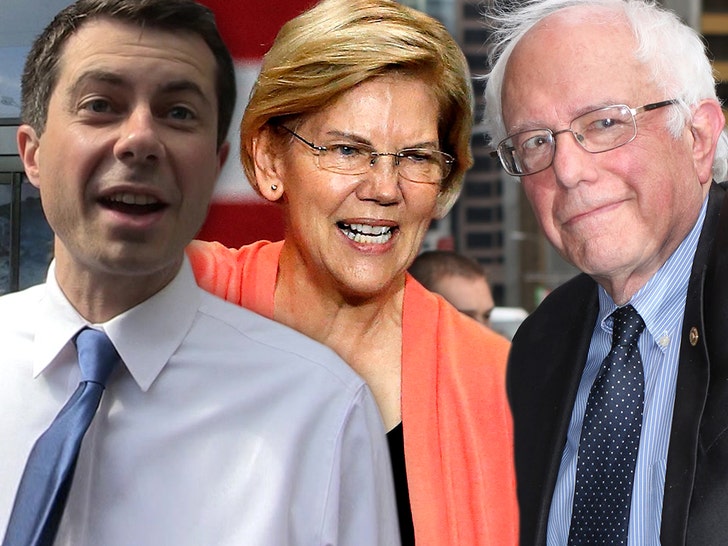 Exclusive
TMZ/Getty Composite
We combed through 2019 Federal Election Commission filings to find which celebs keep cutting checks for Pete, Bernie and Liz … and Buttigieg has the upper hand.
Zachary Woods is right behind with his $2,500 donation … and Pete got $1,500 from both Anthony Rapp and Emmy Rossum, plus $1,000 each from Ben Platt, George Takei and Christine Taylor.
Josh Holloway's wife, Yessica, chipped in $3,000 … while Thomas Lennon contributed a little under $900, Cherry Jones and Meredith Baker added $200 and Harvey Fierstein gave $100.
All told, including non-celebrities, Mayor Pete's campaign raised north of $19 MILLION in the 3rd quarter, and only Sanders ($25.2 mil) and Warren ($24.6 mil) raked in more among Democrats.
The list isn't as long, but Sanders and Warren are getting some support in Hollywood. Bernie's includes $550 from Mark Ruffalo and $250 from Jason Mraz and Matthew McGorry … plus $2,500 from Dan Castellaneta, the voice of Homer Simpson.
David Pierce is hedging his political bet, plopping another $2,800 down for Warren … and she also got $1,000 from Lance Reddick, $500 from Rosie O'Donnell, $284 from Lily Tomlin, $250 from Chelsea Peretti and William Baldwin and $200 from Adam Arkin.
We've seen it before — in 2016 and 2018 — too much celeb support can be a turnoff to some voters. So, there's no guarantee they'll get you elected, but their money definitely helps.