EPIX released the official trailer for its upcoming series, Belgravia.
Belgravia will premiere in 2020 and cover the secrets and scandals among the upper echelon of London society in the 19th Century (That's the 1800s for those of you who failed history).
The limited series will focus on the Trenchard family after they accept an invitation to a legendary ball hosted by the Duchess of Richmond.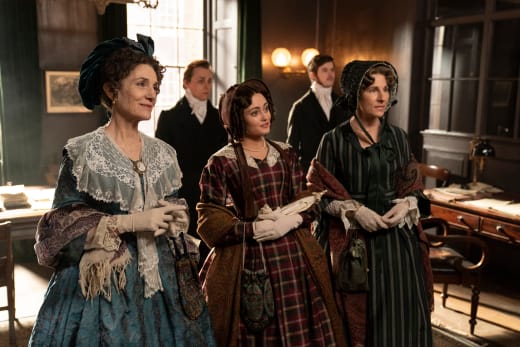 This ball occurs on the fateful night of the Battle of Waterloo and sets in motion a series of events that will have consequences for decades to come as secrets unravel behind the porticoed doors of London's grandest neighborhoods.
The limited series reunites the award-winning creative team behind Downton Abbey; with Julian Fellowes adapting his bestselling novel for the screen and Carnival's Gareth Neame executive producing alongside Nigel Marchant, Liz Trubridge and Fellowes.
Pennyworth Review: The Alfred You Always Wanted
John Alexander (Sense & Sensibility, Trust Me) will direct all episodes with Colin Wratten (Killing Eve) producing.
Tom Wilkinson, Tamsin Greig, Philip Glenister, Harriet Walker, Alice Eve, Tara Fitzgerald, Ella Purnell, Richard Goulding, James Fleet, Adam James, Paul Ritter, and Saskia Reeves star.
Take a look at the trailer now and let us know what you think. It sure sounds reminiscent of Downton Abbey. Will it satisfy your need for a similar tale?
Peter Coyote, most recently seen on the WGN America series The Disappearance, has joined the star-studded cast of A Higher Loyalty: Truth, Lies, and Leadership based off of the bestselling book from former FBI Director, James Comey.
Coyote will play Robert Mueller, a name certainly not unrecognized in today's political climate.
Mueller, of the famous investigation, was Comey's predecessor as FBI Director.
Impressive cast members already on board include Jeff Daniels as Comey, Brendan Gleeson as Donald Trump, and Holly Hunter as Acting Attorney General Sally Yates.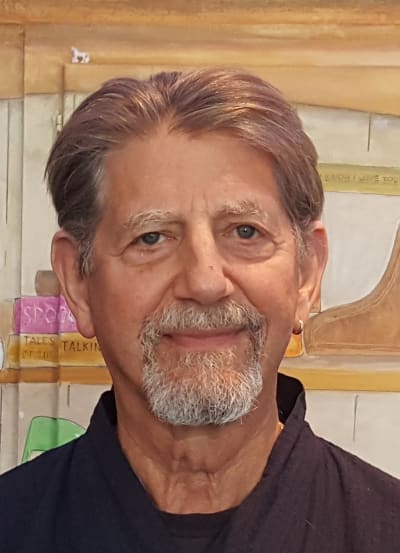 Michael Kelley will be Acting FBI Director Andrew McCabe, and Jennifer Ehle will be Patrice Comey.
CBS has yet to determine if the series will air on Showtime, CBS All Access or both, but if they're trying to sway the political process, there's a good argument made for the latter.
Brendan Gleeson Cast as President Donald Trump in James Comey Limited Series 
Billy Ray is adapting and directing which begins shooting next month.
Deadline reports that CBS Studios said this about Coyote's casting, "Robert Mueller is a hero and an iconic figure. You can't play him unless you have stature and gravitas. Peter does.
Those of you who are waiting for the upcoming HBO drama, His Dark Materials, based on an adaptation of Philip Pullman's award-winning book trilogy will be chuffed to bits if you live in Philadelphia, Santa Monica, or San Jose.
Those three cities have scored advanced screenings of the premiere at local public libraries.
The pop-up events are free and open to the public, but you'll want to get there early as it's a first-come, first-served basis.
On Saturday, October 26, the Free Library of Philadelphia will offer screenings at noon and 2 p.m., and the Main Library of Santa Monica will offer screenings at 11 a.m., 1 p.m., and 3 p.m.
On Saturday, November 2, the Educational Park Branch Library in San Jose will offer screenings at 11 a.m., 1 p.m., and 3 p.m.
Premiering on HBO on November 4 at 9/8c, His Dark Materials follows Lyra (Dafne Keen), a seemingly ordinary but brave young woman from another world.
Her search for a kidnapped friend uncovers a sinister plot involving stolen children and becomes a quest to understand a mysterious phenomenon called Dust.
His Dark Materials Gets November Premiere Date at HBO
If you're a fan of A&E's Live series but don't often get the opportunity to watch, then you might not want to miss the Live Rescue encore on Thursday, October 24 at 11/10c.
They're replaying the episode from October 21 that featured heroic efforts of the San Bernadino County Fire Department as they battled a raging wildfire.
Unlike the highlights from local and national news coverage, "Live Rescue" crews spent hours on the ground following firefighters as they courageously raced to fight the blaze which spread across 17 acres.
First responders evacuated over 100 residents who were in the path of the fire. At least six people, including two firefighters, were hospitalized from fire-related injuries; six homes were damaged, and three others were heavily damaged.
Hosted by Matt Iseman, Live Rescue follows America's first responders as they bravely put their lives on the line answering emergency rescue calls across the country.
If you can't wait, The October 21st episode of "Live Rescue" is also available to watch on AETV.com.
Check out a clip from the episode below.
Freddie Prinze Jr. is taking another leap into familiar territory.
While he didn't retain the part of Nancy Drew's dad on the aptly titled CW series (a role that ultimately went to Scott Wolf), he's gotten cast in the NBC Peacock streaming series revival of Punky Brewster.
Nancy Drew Recast: Scott Wolf to Replace Freddie Prinze Jr. 
Again, Prinze Jr. will play a dad, but to his children with Punky (Soleil Moon Frye).
Although divorced, Travis, a working musician, remains a great dad to his children despite his travel schedule and there is still lingering chemistry with Punky.
That's the kind of casting news that makes a revival like this all the more interesting.
Prinze, Jr., has had the lead voice role on Star Wars Rebels for years, and he recently released a cookbook titled, Back to the Kitchen: 75 Delicious, Real Recipes (& True Stories) from a Food-Obsessed Actor
And finally, the word is that Creepshow is doing bang-up business for the Shudder streaming network.
What kind of streaming services other than the big three (Netflix, Hulu, and Amazon) do you watch?
Over half of all of those who have Shudder have watched Creepshow on the AMC-owned streaming service so far, and during Creepshow's first week, a record number of minutes per user was attained — a record that has been broken in each subsequent week as a result of the new episodes released.
We don't often cover some otherwise great streaming series because we're unsure of the time commitment to the value we'll receive in readership, so if you're interested in coverage of this type, please speak up.
Get Shudder via Prime Video Channels for Spine-Tingling & Provocative Films, TV Series, & Originals
With a 96% critics' rating on Rotten Tomatoes, it's one of the best-reviewed shows of 2019.
"​Creepshow is a breakout series that's hit the trifecta for streaming services: Shudder members love it, critics love it and it's driving record numbers of new subscribers," said Shudder GM Craig Engler. 
"Greg Nicotero and his team have delivered an amazing show that honors the original movie by George A. Romero and Stephen King while forging an identity that's uniquely its own."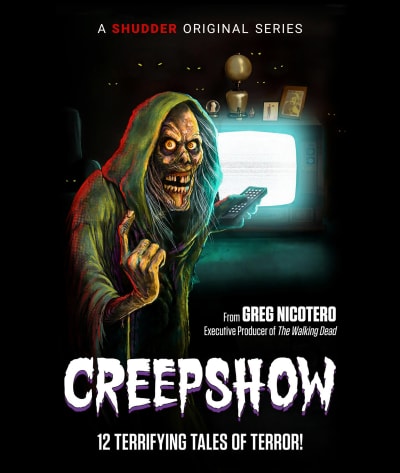 The series' fifth episode, starring Bruce Davison and David Arquette, will premiere this Thursday, October 24. Creepshow's season finale, featuring horror legend Tom Savini directing an adaptation of Joe Hill's story "By the Silver Water of Lake Champlain," will premiere on October 31.
Creepshow​ is executive produced by showrunner Greg Nicotero (​The Walking Dead) and based on the iconic 1982 movie written by Stephen King and directed by George A. Romero.
———————————————
Editor's Note: Our system got updated! Now, you'll be able to scroll through many articles at once. That required a bit of a change to the comments, though, and now you have to click the blue "comments" bar at the bottom of an article to access them. 
There are also two segments to comments now. You can either comment using Facebook or Disqus. Either way, you can SEE both types of comments. We hope that will be more inclusive of our community at large and that the conversations will grow as a result.
Carissa Pavlica is the managing editor and a staff writer for TV Fanatic. She's a member of the Broadcast Television Journalists Association (BTJA), enjoys mentoring writers, wine, and passionately discussing the nuances of television. Follow her on Twitter and email her here at TV Fanatic.