This coming week sees the start of November, which means it's one of the most significant months ever in the history of streaming television.
It begins on November 1 with the first rollout of Apple TV+ originals on their new platform.
Check below to see what else is airing, and hit the comments to share with us what you'll be watching.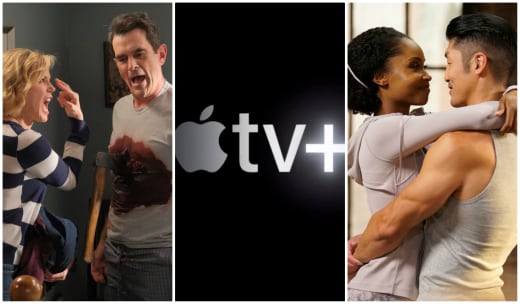 Sunday, October 27
8/7c Batwoman (The CW)
Hide your shiny treasures because Magpie (Rachel Matthews) has arrived in Gotham!
The infamously mad jewel thief puts Luke Fox's ingenuity to the test as her trinket-collecting masks a more sinister plot. Are Gotham's new defender and her techie up for the job?
Meanwhile, Catherine has an uncomfortable encounter with Alice, Jacob and Sophie put their heads together, and Batwoman asks Mary for a favor.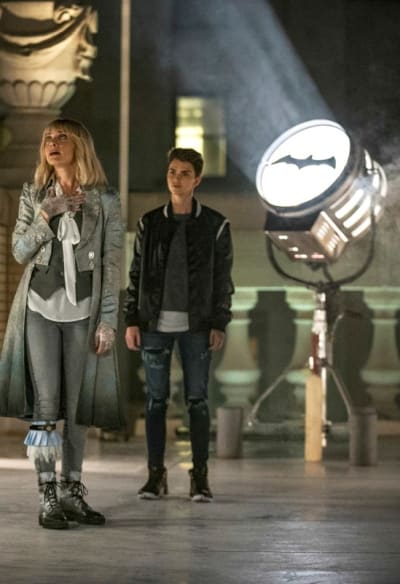 8/7c No Time Like Christmas (Lifetime)
After Emma (Kyla Pratt) finds her college boyfriend's engraved watch at a vintage jewelry shop, her sister Bronwyn (Rachel McLaren) believes it is a sign and decides to secretly play cupid by sending Emma to the same bed and breakfast in Vermont that Fletcher (Ed Ruttle) is staying at one week before Christmas.
Get Great Selection of New & Classic Movies with the Lifetime Movie Club via Prime Video Channels
However, upon arrival, Emma is not only shocked to bump into her first love after all these years but also his vivacious daughter. Throughout the week, the two fight their feelings for one another as they plan a Christmas Eve show in hopes of saving the local theater.
9/8c The Affair (Showtime)
It's the penultimate episode of the series, and Helen and Noah have a lot to work through. As California wildfires rage on, they have to confront what dragged them apart in the first place: their fraught relationship.
Noah will also continue to feel the wrath of many following the Vanity Fair article.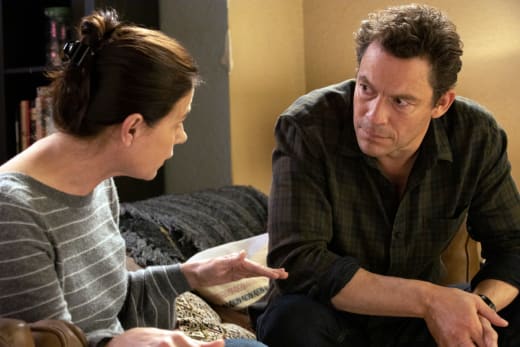 9/8c The Walking Dead (AMC)
We may be halfway through the first half of The Walking Dead Season 10, but the thrills and chills are not slowing down. Thanks to Alpha's actions, the paranoia at Hilltop is at an all-time high.
On top of that, Lydia is still trying to find a way to fit in, but she can't seem to get anywhere without Negan's help.
The Walking Dead Season 10 Episode 3 Review: Ghosts
10:30/9:30c Mrs. Fletcher (HBO)
Kathryn Hahn stars as a divorced, 40-something single mother who goes through a transformation (with the help of porn) when her son (Jackson White) goes off to college where he learns his high school behavior (also influenced by porn) doesn't fly in his new enviornment..
All of the episodes, which delve heavily into sexuality of the 21st Century, will be directed by women.
It also features Cameron Boyce in a supporting role. Unsurprisingly, he makes an impact as a caring college roommate.
Monday, October 28
Agatha Raisin and the Haunted House (Acorn)
Agatha Raisin is one of my favorite British imports. In this special, Ashley Jensen returns as the ultra-fashionable amateur sleuth on the verge of a new era — Recently reconciled with her boyfriend and launching her own detective agency.
But when her agency failed to attract new clients, James suggests they investigate a legendary haunted house to drum up some business, and no one expected their first case to be so spooky!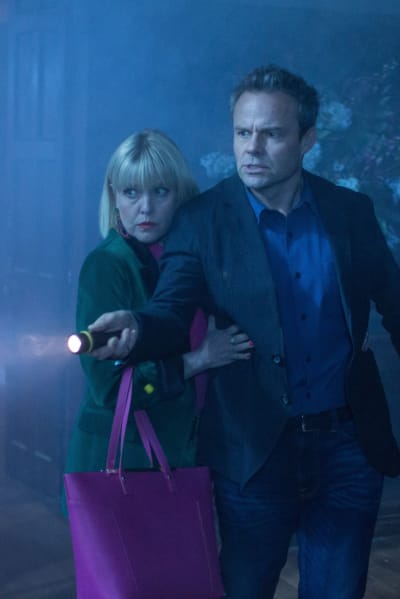 9/8c Prodigal Son (FOX)
What happened on that camping trip? Malcolm's latest deep dive into his psyche involves trying to remember a camping trip with his father where he may or may not have helped him dispose of a body.
It's a particularly haunting homicide just in time for Halloween. And Malcolm and Jessica join forces to stop Ainsley from interviewing Martin.
Prodigal Son Season 1 Episode 5 Review: The Trip
Tuesday, October 29
8/7c The Conners (ABC)
Could Jackie and Rosie's Lunch Box be resurrected?
Jackie learns that the Chinese restaurant is going out of business and sees an opportunity to reopen the Lunch Box, but she's caught by surprise when she uncovers a secret.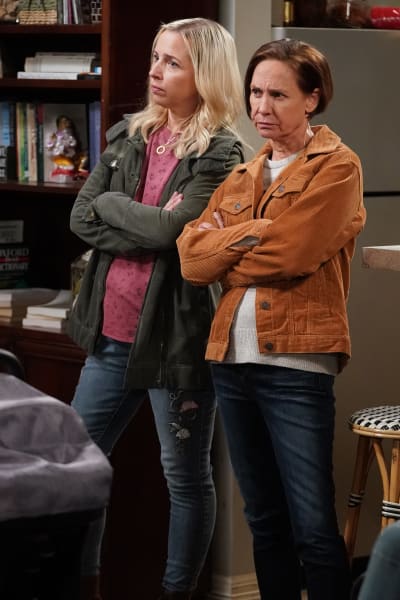 8/7c The Resident (FOX)
Please note, this will only air if there is NOT a need for a sixth game in The World Series, and you better pray the series ends fast. This hour is MAGNIFICENT!
Devon and Conrad continue to butt heads about the type of doctors they want to be, and matters are made worse after a plane crash of which Devon thinks himself culpable.
Bell, who was a passenger on the plane, becomes personally involved with a patient — the man who was seated next to him on the plane.
Meanwhile, Mina and the Raptor struggle with what it means to be family and Conrad and Nic consider taking on another behemoth in light of news on Jessie's death.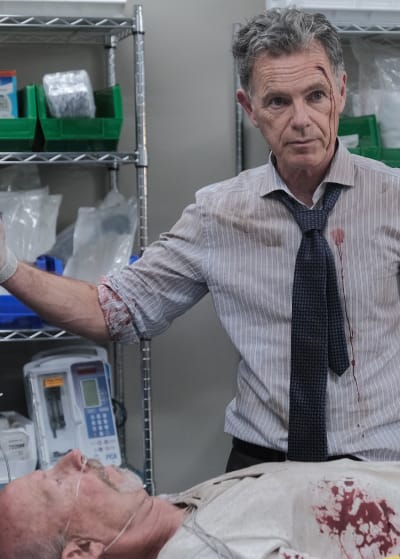 9/8c The Purge (USA Network)
It's impossible to know what lies ahead, but the current trajectory of The Purge Season 2 is fleshing out life in the new world in which The Purge exists.
The Purge Season 2 Episode 2 Review: Everything Is Fine
Can people really hold their nefarious desires for 364 days a year? Does Purging help or hurt those with such indications? What is the cost for crimes in this new environment?
We can't wait to find out.
10/9c New Amsterdam (ABC)
While the promos haven't given us much to work with, it seems the next episode may involve sisterhood, divine intervention, and Max's puppy dog eyes. You can't go wrong with that, right?
Also, if you've been missing the Helen and Kapoor team up , you're in for a treat.
New Amsterdam Season 2 Episode 5 Review: The Karman Line
10/9c Treadstone (USA Network)
This globetrotting adventure spun from the Bourne universe will take viewers on another wild trip as Tara tries to save General Kwon's daughter from the clutches of the rogue agents who were following them.
Mr. Edwards will also continue to find a way to track down all of the activated Cicadas.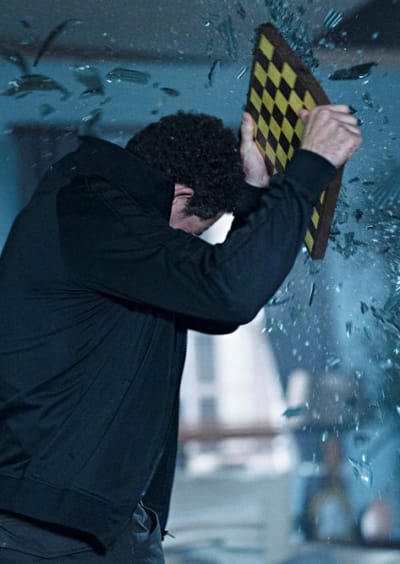 Wednesday, October 30
8/7c Chicago Med (NBC)
Natalie's insistence that she is ready to go back to work may put her job in jeopardy, if not Med's ability to keep its doors open!
Chicago Med Season 5 Episode 6 deals with the fallout of Natalie's decision to lock herself in a toddler's room and give him medication against his parents' wishes. Natalie believes she's saving a life, but is she, and will that make a difference?
Tune in to see what the consequences are of her impulsive decision.
Chicago Med Season 5 Episode 5 Review: Got A Friend in Me
9/8c Modern Family (ABC)
It's the final Modern Family Halloween as Phil is determined to finally scare Claire, Mitch and Cam end up at a Halloween Carnival without their daughter, and Gloria, for the first time, must come to terms with her age.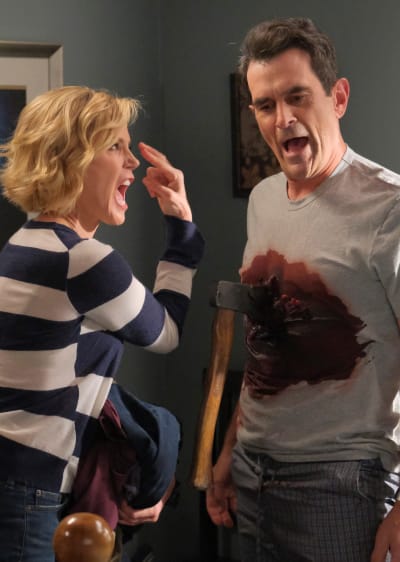 10/9c Stumptown (ABC)
Now that Dex is officially a P.I. it is time for her first real case.
However, her joy won't last long when she realizes it is to investigate Grey's kidnapping. How will she handle this devastating blow? Grey's kidnappers better watch out because Dex is coming for them.
Stumptown Season 1 Episode 4 Review: Family Ties
Midnight Baroness von Sketch Show (IFC)
Technically, this airs on Halloween, but since many of you will be watching at Central and Mountain times, we'll roll with here at the end of Wednesday night.
None of this confusion should keep you from either tuning in or recording Baroness von Sketch, which is one of the funniest shows on television.
The fourth season delves into topics such as perimenopause, after-40 photos, the impossibility of Jawbreaker candy, the realities of DNA tests, and Me Too, as well as their regular fare touching on friendships, relationships, and working life, all with hilarious results.
What makes BvSS such a delight is the topical comedy rarely sides with any political entity. That could be since the glorious talent comes from Canada, or it could be because creators Aurora Brown, Meredith MacNeill, and Carolyn Taylor don't need to go to those lengths to be funny.
Their comedy is relatable across the board and their performances, along with Jennifer Whalen's are entirely unhibited.
Thursday, October 31
8/7c Grey's Anatomy (ABC)
It's Halloween fun, and while Jo is getting into the spirit with her costume, Meredith is rocking a prison orange jumpsuit. Somehow, Meredith has made going to prison a funny experience. And in addition to all the other issues at Pac-North, it may be haunted.
Grey's Anatomy Season 16 Episode 5 Review: Breathe Again
9/8c Nostalgic Christmas (HMM)
Brooke D'Orsay and Trevor Donovan star in this Christmas movie about a woman named Anne who helps close her father's toy store.
What she finds will help inspire an entire town that desperately needs some Christmas cheer.
9/8c A Million Little Things (ABC)
There is trouble brewing in paradise with AMLT's most beloved couple. Maggie is losing fans by the week, but that will take a turn for the worse when she accidentally loses Gary's beloved dog, Colin.
Let the record show; if something happens to that dog, there will be ranting and possible profanity. Maggie and Gary are drifting apart, and between Colin's disappearance and Eric's (Jason Ritter) presence, Gary and Maggie could be headed to splitsville.
A Million Little Things Season 2 Episode 5 Review: Austin
Friday, November 1
This is a HUGE day in streaming. Does it get much bigger than this?
Apple TV+ rolls out its first slate of original programming. We'll have reviews of as much as we've seen on Tuesday.
Dickinson (Apple TV+)
This new series stars Hailee Stanfield as 19th Century writer Emily Dickinson. Also starring Jane Krakowski and Toby Huss, it's a period piece with modern sensibilities, meaning it's got the clothing and it's lacking electronics, but all else points to the present.
The Elephant Queen (Apple TV+)
This documentary follows an elephant named Athena as she leads her herd through some desperate situations during a stunning drought.
Her decisions impact not only her herd but man other species in a moving and memorable look at the majestic animals.
For All Mankind (Apple TV+)
Set in an alternate universe, in this one, the US lost the space race to the Soviet Union, and it sets the US on a frenzied quest to best their counterparts.
Joel Kinnaman, Michael Dorman, and Sarah Jones star in this already renewed series from Ronald D. Moore.
The Morning Show (Apple TV+)
Starring Jennifer Aniston as the lead of a national morning news show similar to Good Morning America or Today, Kerry Ehrin runs the series that focuses heavily on the Me Too movement and women's place in the workplace.
15 Fun TV Workplaces Worth Celebrating
Steve Carell, Reese Witherspoon, Mark Duplass, Billy Crudup, Gugu Mbatha-Raw, Bel Powley, and Nestor Carbonell also star in what should be an immediate hit for Apple TV+.
The series has already been renewed for second ten-episode season.
See (Apple TV+)
Jason Mamoa and Alfre Woodard star in this series that imagines a world centuries in the future after a cataclysmic event stole humanity's sight.
A second season has already been ordered of this series, too, which follows the birth of sighted twins and how it threatens the new delicate balance in the sightless world.
Apple TV+ Sets November Launch Date – How Much Will It Cost?
Tom Clancy's Jack Ryan (Amazon)
As if there isn't enough to stuff your weekend to the gills, you can also get your action on with the second season of Jack Ryan.
We'll have a full review of the season before it drops.
Atypical (Netflix)
The third season of this family comedy sends Sam to college, and he quickly finds that it is completely different from high school. His sister continues to question her sexuality as she starts to wonder who is the right person for her.
This season also brings Sara Gilbert and Eric McCormack into the fold.
9/8c Two Turtle Doves (HMM)
Nikki DeLoach stars as Dr. Sharon Hayes who is searching for a beloved family heirloom in a small Christmas town.
When she unexpectedly discovers an adorable little girl and her disheartened father (Michael Rady), she realizes that Christmas miracles really do happen.
17 TV Friendships That Turned Romantic Over Time
Saturday, November 2
8/7c Merry & Bright (Hallmark)
Candy Cane Company Cate (Jodie Sweetin) meets Gabe (Andrew Walker) during a busy holiday season and mistakes him for someone else. Sharon Lawrence also stars.
8/7c Christmas Reservations (Lifetime)
Melissa Joan Hart stars in this new movie with Michael Gross.
Hart stars as a woman who works as the event organizer at a ski resort owned by her father (Gross). Expect romantic notations to challenge their life decisions with costars Ricardo Chavira and Markie Post.
———————————————
Editor's Note: Our system got updated! Now, you'll be able to scroll through many articles at once. That required a bit of a change to the comments, though, and now you have to click the blue "comments" bar at the bottom of an article to access them. 
There are also two segments to comments now. You can either comment using Facebook or Disqus. Either way, you can SEE both types of comments. We hope that will be more inclusive of our community at large and that the conversations will grow as a result.
Carissa Pavlica is the managing editor and a staff writer for TV Fanatic. She's a member of the Broadcast Television Journalists Association (BTJA), enjoys mentoring writers, wine, and passionately discussing the nuances of television. Follow her on Twitter and email her here at TV Fanatic.