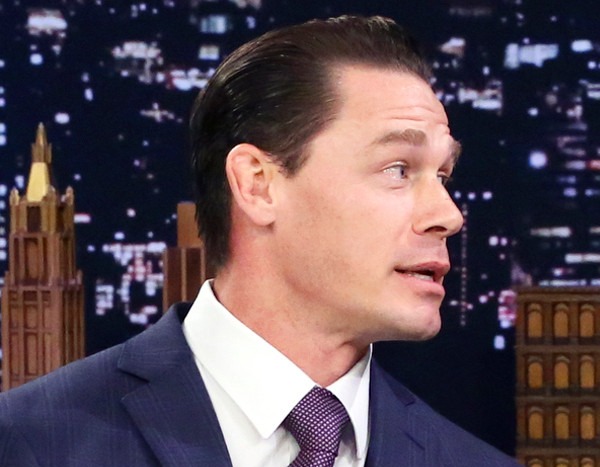 Things are getting fishy on late night TV.
During Sunday night's The Tonight Show Starring Jimmy Fallon, Jimmy Fallon challenged John Cena to the first-ever round of "Fish Slap," based on the card game Hi-Lo. The premise: Guess if the next card in the deck will be higher or lower than the previous and, if you lose, you get slapped in the face with a fish. Yes, an actual fish. The first person to slap their opponent three times wins.
The host and wrestling champ each donned black rubber gloves and were seated next to two buckets of the slimy sea creatures. Fallon dealt first, drawing a seven of clubs from the deck, much to Cena's dismay. "Oh, come on!" the actor grumbled. "It's right in the middle! Fallon, you son of a bitch."
Luckily for Cena, his low guess was accurate. In other words, no fish-to-face contact just yet.
As luck would have it, Fallon was the first to guess incorrectly and thus the first to be fish slapped.
As the WWE superstar wound up, Fallon made a request: "Be gentle, dude." The Playing with Fire actor amped up the suspense by dangling the fish next to Fallon's face before finally slapping him.
But Fallon wasn't the only one with such fate. When the next cards drawn were a pair of threes, the players each got to slap one another. As the TV personality hit his opponent across the moneymaker, Cena shouted "Damn you, Fallon!" 
Ultimately, it was Cena who came out on top. Preparing to take his winning shot, he proclaimed, "In the name of salmon and mackerel, the day is mine!"
Between the fish slaps this week and that waterfall of guacamole poured on him last week, Fallon really isn't having the cleanest time on his show.
(E! and NBC are both part of NBCUniversal.)
Don't miss E! News every weeknight at 7, only on E!