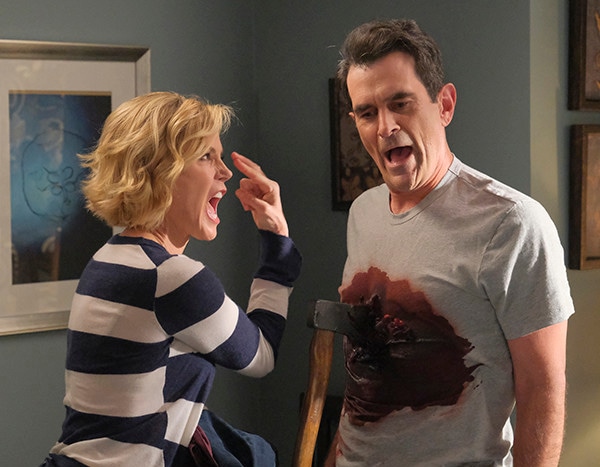 Modern Family has always loved Halloween, but this year, for its very last Halloween installment, things got a little depressing. 
Everybody was realizing that the kids were growing up and Halloween was no longer the event it used to be, so it was time for the adults to try and have a little fun of their own.
Phil was dismayed that nothing he did was able to scare Claire, even as he pretended to be murdered with an ax and took her to a terrifying Japanese horror movie. On the way home from the movie, they walked past a creepy house and thought to check on the old woman who lived there, because they didn't see her in the window. Claire ended up discovering a skeleton waiting in a chair by the window, only to turn around and discover that it was all an extremely elaborate prank by Phil, who had been planning this scare for 11 and a half months. 
He knew the house was empty, so he concocted the story of the old woman who lived there, even subscribing to Meals on Wheels and putting up fliers as her, and planned this night of skeleton-finding that might actually scare Claire. 
It worked, but now he's got a problem, because Claire sees it as the start of a beautiful new prank war to fill their days as empty nesters. 
Elsewhere, Mitch and Cam sent Lily off to a party so they could go enjoy an adult Halloween, but they ended up panicking and leaving to find her curled up in her bed, sad over a boy who didn't like her back, believing that her dads couldn't possibly know how that felt. 
And at the Pritchett home, Manny was dressed as Freud and set off on a journey with Jay, who was freaking out over losing the candybar that was supposed to remind him of his childhood. 
He was sad that Joe didn't want to hang out with him, and it turned out the whole time that Manny did want to hang out with him, while Gloria, dressed as Elsa, was determined to prove she was still young and beautiful. This all ended with Gloria winning a drag queen competition, though she clearly did not realize that's what she had won. 
And finally, we have Alex and Luke, who each planned dates on Halloween at the same restaurant. After Alex revealed she'd accidentally been sending nudes to her boyfriend's creepy friend, and Luke revealed he had destroyed his much older date's life several years ago, both of those ended badly, and the siblings just ended up hanging out, which was nice. And it was also an appropriate ending to Luke's extra creepy relationship with a woman who was 20+ years older than him. 
There was certainly a bittersweet vibe to the episode, but nice to know that this family continues to grow up well together. 
Modern Family airs Wednesdays at 9 p.m. on ABC.