As is the tradition here on Crime Fiction Lover, each year our reviewers discuss their five favourite crime novels. Likewise, we all talk about what a difficult task choosing them presents, although this year I found it fairly easy. Some books get their hooks into you, enthralling you when you're reading and seeping into your mind when you're doing more mundane things like washing the dishes.
What's interesting about my choices this year? Hmmm. Let's see. They're all set in different countries. Stylistically, they're extremely varied. The common factor is that they were all a pleasure to read and review. But what I like about our top five exercise in general is that not only do we demonstrate the broad range of writing talent in crime fiction through our choices, but these lists also give you an idea about our individual personalities as reviewers. Have a look at each of our top five lists and see if you can psychoanalyse us!
5 – Five Moves of Doom by AJ Devlin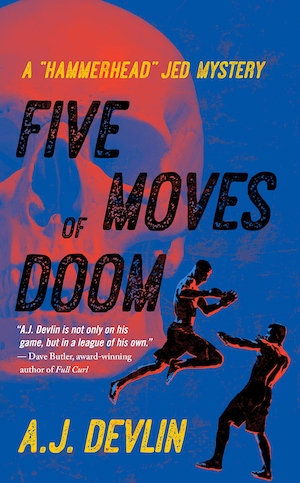 The first two novels on my list were both independently published, but they couldn't be more different. The first is funny, pulpy and passionate, the second tense, literary and insightful. The beauty of the genre is that it has room for both. It's clear here in AJ Devlin's third novel that he loves writing about pro wrestling just as much as he loves crafting a mystery. Of course, it takes plenty of ingenuity for a story to work when your detective character is a larger-than-life retired wrestler called 'Hammerhead' Jed Ounstead. People tend to notice characters like that, but at least Jed has the physique required to infiltrate an underground fight club in Vancouver. What he discovers puts his life at risk and he must push himself to the limit to defeat his foes. That being said, there's a light and humorous side to this book and the series characters will definitely grow on you. Exciting and different, Five Moves of Doom is a wonderful diversion. Read the review.
Order now on Amazon
4 – The Old Woman with the Knife by Gu Byeong-mo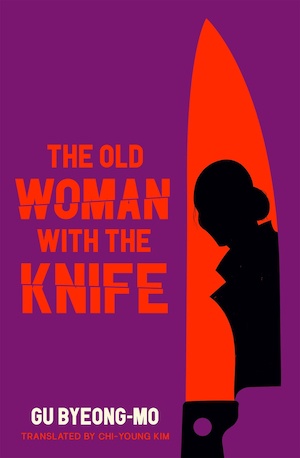 On one level, this novel is about an ageing assassin who is worried that she's losing her touch. On another, it is about how a modern society views and treats older people. Hornclaw is the name of the assassin in question, and at 65 she's wondering how she'll be retired. The murder agency she co-founded could kill her, or it could pay her off in shares. Death, like everything else, is just business these days. The bigger problems are that someone has been shadowing her, and she's made the mistake of starting to care about some of the people in her life. This gives her unknown enemy leverage. Rarely do crime novels offer the emotional, literary and poetic qualities that Gu Byeong-mo achieves here and it's intriguing to experience South Korea and Seoul through the lens of crime fiction. If you haven't read it already, The Old Woman with the Knife is definitely worth your time. Read the review here.
Order now on Amazon and Bookshop.org
3 – City on Fire by Don Winslow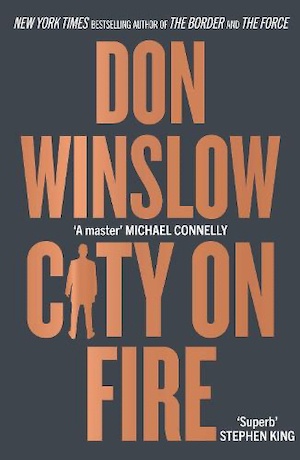 We go back to the year 1986 with the American author Don Winslow, where we meet Danny Ryan, a low-level operator in Providence, Rhode Island's Irish mob. The peace with Pasco Ferri's Italian crew is broken over a woman and the war gradually escalates with tit-for-tat killings. In City on Fire we follow Danny's reluctant rise as a potential peacemaker and future leader of the Irish contingent. As in the best gangster novels, brutality and humanity nestle side-by-side – family values and a constant sense of honour are continually undermined by greed, deception and hypocrisy. Nevertheless, how Danny navigates all this feels heroic and completely convincing and Don Winslow's superb storytelling keeps the pages turning. Winslow grew up in the area he's writing about, and you can feel that in the descriptive prose, while allusions to classical literature add to the experience. Read our review.
Order now on Amazon or Bookshop.org
2 – Cry Wolf by Hans Rosenfeldt
Cry Wolf was easily one of the best Scandinavian crime novels of the year, bringing new vitality to the sub-genre just when it needs it. There are two tales going on here – with two women hunting for a bag containing €300,000 and another bag containing some very expensive narcotics. Hannah Wester of the Haparanda police is in her 50s and is put on the trail after a dead wolf is found with human remains in its gut. Katja is a Russian assassin whose task is to retrieve the money and the drugs, and kill whoever stole them. Meanwhile, in a noir-ish twist, a young ex-con and his girlfriend find both bags and are hiding them. They have no idea what kind of trouble is coming their way. Searing action, intrigue, fascinating characters – a winner from Sweden. Read the full review here.
Order now on Amazon or Bookshop.org
1 – The Twist of a Knife by Anthony Horowitz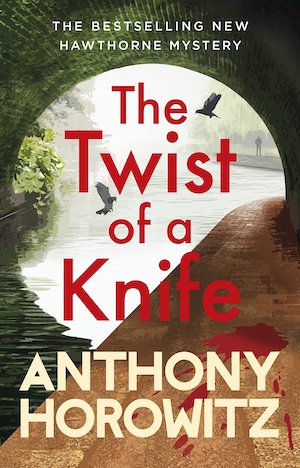 It's not often that the fourth novel in a series will blow you away, but the way Anthony Horowitz crafts his Hawthorne books is beyond compare. The author himself is a character in them, and elements of his real life mingle with pure fiction in the most delightful way. The Twist of a Knife centres on his play, Mindgame, which has opened at an old West End theatre. When it receives a scathing review, and the journalist who wrote the review is found dead, Horowitz becomes the prime suspect. Now he must rely on former police detective Daniel Hawthorn to extricate him from the situation and solve the real murder in a tale that takes you from Little Venice in London to prim and proper West Country villages. The cleverest novel of the year, it is immersive and beautifully written. Read our review.
Order now on Amazon or Bookshop.org
See my top books of 2021 here.