If we said the words 'donut legion' to you, what would spring to mind? A chocolate dip, maybe? Jam or custard? Sprinkles on top…? Being eaten by a police officer on their break, perhaps? Or, how about a sweeeet new standalone crime novel from Joe R Lansdale, creator of Hap and Leonard and author of over 50 books in his inspiring career? That's what we've got for you this week, along with an intense new procedural set in Brighton, some amateur espionage in Moscow, a terrifying teen and, well… a doggie detective story too. We did warn you this week would be sweet.
The Donut Legion by Joe R Lansdale
Fans of crime fiction that's edgy, quirky and set in the Deep South, it's time to rejoice! Joe R Lansdale is back, and his latest book, The Donut Legion, comes out on 21 March. Charlie Garner has a bad feeling. His ex-wife, Meg is missing, last seen behind the counter at the local donut store run by the Saucer People, a cosmic evangelical cult who believe their compound to be the site of an extraterrestrial Second Coming. With the help of his brother, Felix, and beautiful journalist Amelia 'Scrappy' Moon, Charlie sets his sights on rescuing Meg – but when their key informer is found dead with his arms ripped out of their sockets, it's clear that danger lurks in the Saucer People's mysterious secret compound.
Order now on Amazon or Bookshop.org
Force of Hate by Graham Bartlett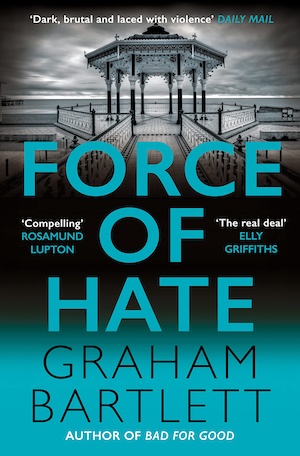 It's a case of good versus evil in Force of Hate, follow up to Graham Bartlett's excellent Bad for Good, winner of the Best Debut Editor's Choice Award on our site in 2022. Trouble is, the evil has infiltrated the higher echelons of society. When a firebomb attack at a traveller site in Brighton kills women and children, Ch Supt Jo Howe believes the new, dubiously elected, far-right city council leader is behind the murders. She's warned off the case by the chief constable, but Howe is determined to get to the truth and catch the culprits. What she uncovers is horrifying – a criminal network carrying out human trafficking and euthanasia. It all leads to a devastating plot which threatens thousands of lives. Force of Hate is out on 23 March and we'll be reviewing it soon.
Order now on Amazon or Bookshop.org
The Translator by Harriet Crawley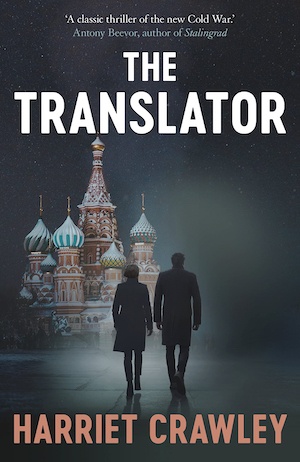 Author Harriet Crawley knows Moscow well, so there is an authentic feel about her topical thriller The Translator, out on 23 March. It's the autumn of 2017 and Clive Franklin, a Russian language expert in the UK's Foreign Office, is surprised to be summoned unexpectedly to Moscow to act as translator for the British Prime Minister. More shocks are in store – his former lover Marina Volina is now the interpreter for the Russian president, and Clive learns about a Russian plot to cut the undersea cables linking the US to the UK which would paralyse communications and collapse the Western economy. It appears that Marina is keen to scupper the plan – but her help comes at a price…
Order now on Amazon or Bookshop.org
A Flaw in the Design by Nathan Oates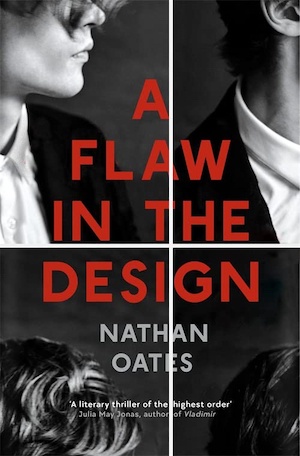 Best known for his short stories, Nathan Oates makes his long form debut with the psychological thriller A Flaw in the Design, to be published on 23 March. A professor's quiet and untroubled life is thrown into disarray with the arrival of his charming, wildly dangerous nephew, whose wealthy parents have just died… in mysterious circumstances. Gil and his wife are apprehensive about taking in 17-year-old Matthew – the last time the two families were together, the boy lured their young daughter into a terrifying, life-threatening situation. As Matthew settles in, it seems like not that much has changed.
Order now on Amazon or Bookshop.org
Barking up the Right Tree by Leigh Russell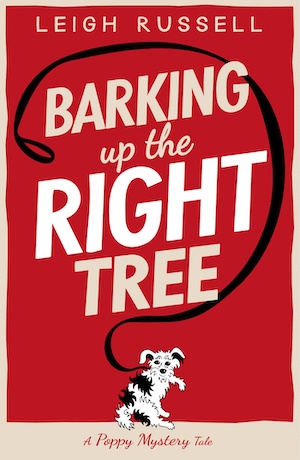 Leigh Russell has attracted readers galore with her police procedural series featuring DI Geraldine Steel. Now she's turning her attentions to cosy crime fiction with the arrival of the Poppy Mystery Tale series. Or perhaps that should be tail, because Poppy is a dog, inherited by Emily after the death of her great aunt, along with her cottage in the Wiltshire village of Ashton Mead. Emily has just lost her job and her boyfriend so what has she got to lose? Just as she settles into village life, her next-door neighbour's daughter disappears, so Emily decides to investigate and unwittingly puts her own life in danger. Who said country life was boring? Barking Up the Right Tree is out on 23 March.
Order now on Amazon or Bookshop.org
Click here to read about last week's new books.