The publishing industry has shaken off its pandemic slumber and this summer is going to be hot for crime fiction readers. There are so many strong late-May releases that we couldn't keep our selection down to five and so this week our news column brings you eight new titles to choose from. They include two huge names from American, covering crime fiction (Megan Abbott) and crime fighting (James Comey). There's a throwback Japanese crime novel from Yukito Ayatsuji and a debut from the Australian Brooke Robinson. We've got indie covered by Simon Marlowe and historical with DV Bishop. Plus, two relationship based thrillers to grip you, because how well do you really know your partner? Um… no need to answer that!
Which will you choose? That's the question.
Beware the Woman by Megan Abbott
Over the years, Megan Abbott has cornered the market in complex psychological thrillers that hold the reader in an iron grasp. Beware the Woman, out on 30 May, is another to add to her portfolio. Jacy is newly married and pregnant. She and husband Jed are on their way to visit his father, Dr Ash, in Michigan's far-flung Upper Peninsula. Everything is perfect and they are welcomed with open arms by Dr Ash at his cute cottage snug within the lush woods. But for some reason his his house manager, the enigmatic Mrs Brandt, seems a little frosty – and when Jacy has a health scare the young mum-to-be begins to feel trapped in the cottage, her every move watched. Are her hormones playing up, or is she right to feel afraid?
Order now on Amazon or Bookshop.org
Central Park West by James Comey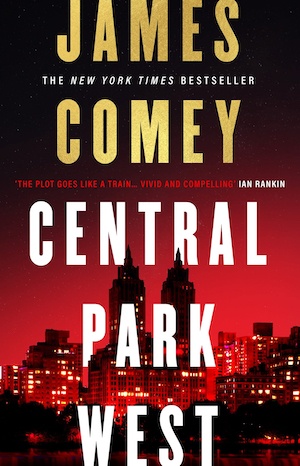 Former Director of the FBI James Comey leans heavily on his inside knowledge for this debut political thriller, out on 30 May. Central Park West embeds the reader deep in the world of lawyers and investigators working to solve a murder while navigating the treacherous currents of modern politics and organised crime. Federal prosecutor Nora Carleton has plenty to be happy about when a years-long case against a powerful mobster finally cracks and an unimpeachable witness takes the stand. She's about to put the notorious criminal away for good – but he has other ideas, instead offering up some juicy information about a recent assassination that could blow the case wide open.
Order now on Amazon or Bookshop.org
The Mill House Murders by Yukito Ayatsuji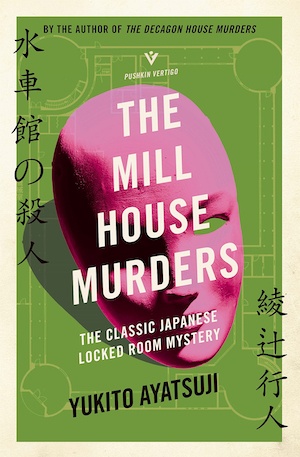 Written by Yukito Ayatsuji, with a translation by Ho-Ling Wong, The Mill House Murders is classic-style Japanese whodunit revolving around the reclusive Fujinuma Kiichi, son of a famous artist, who has worn a rubber mask ever since a disfiguring car crash. Each year he invites a small group of friends to visit Mill House – but this time the visit is disrupted by a gruesome murder, a baffling disappearance and the theft of a priceless painting. Can Kiyoshi Shimada get to the bottom of it all before the killer gets to him? Fans of The Decagon House Murders already know this author's twisty and ingenious style – you can grab a copy on 30 May.
Order now on Amazon or Bookshop.org
The Interpreter by Brooke Robinson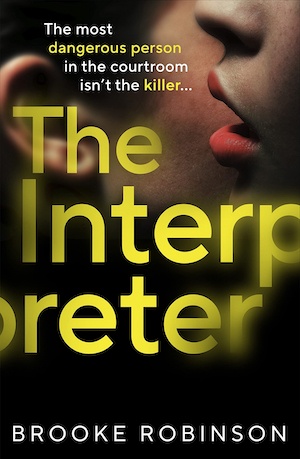 Australian playwright Brooke Robinson makes her crime fiction debut with The Interpreter, out for Kindle on 1 June and in print on 8 June, and we've been told it's going to be 'bigmassive'. Is that a word? Anyway, single mother Revelle Lee works as an interpreter, spending her days translating for victims, witnesses and the accused across London. Only she knows what they're saying, and when she believes a grave injustice is about to occur and a guilty man is going to be labelled innocent, she has the power to twist an alibi to get the verdict she wants. She's willing to risk it all to do what's right. But when someone uncovers what she's been doing and the lies she's told, Revelle realises that she could lose everything, including her son.
Order now on Amazon or Bookshop.org
Medusa and the Devil by Simon Marlowe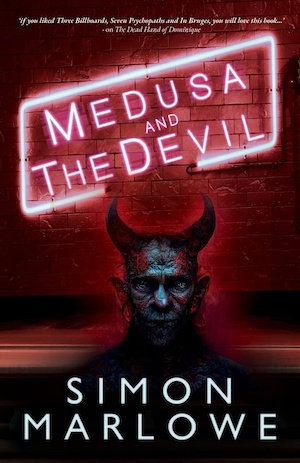 Now, some British indie crime fiction. After escaping from the doom and gloom of low-life gangsterism on a rundown Essex housing estate, Steven Mason had high hopes of finding a new life in the Mediterranean. But the best laid plans, and all that… Instead, Mason learns that his former world of corruption and greed is not so easily set aside, and he is drawn into yet another nefarious job. Now, trapped with no means of escape, he is left to ponder why he keeps being drawn closer and closer to Hell. The second part of the Mason Made Trilogy, which opened with The Dead Hand of Dominique, Simon Marlowe's Medusa and the Devil is published on 23 May.
Order now on Amazon
Ritual of Fire by DV Bishop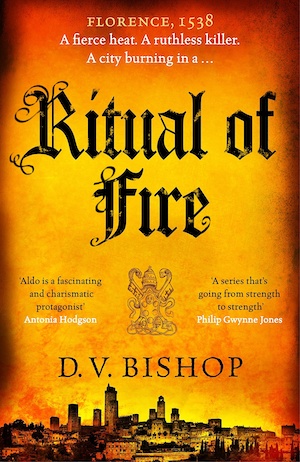 Feast your eyes on a slice of historical crime fiction when DV Bishop's Ritual of Fire arrives on 1June. We're in Florence and it's 1538 when a night patrol finds a wealthy merchant hanged and set ablaze in the city's main square – a spectacle intended to put the fear of God into the city's inhabitants, because 40 years earlier, puritanical monk Girolamo Savonarola was executed the same way. Does this new killing mean his fanatical disciples are reviving the monk's regime of holy terror? Officer Cesare Aldo is hunting thieves in the Tuscan countryside, leaving Constable Carlo Strocchi to investigate the case, but when a second merchant is burned alive in public the pair must unite before Florence is consumed by an inferno of death and destruction.
Order now on Amazon or Bookshop.org
Keep Her Secret by Mark Edwards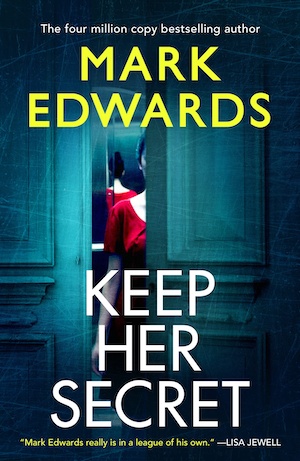 It was 20 years ago when Matthew and Helena were college sweethearts. Now they are rekindling their romance with a trip to Iceland – until everything goes wrong on a mountain hike. One moment they are taking the perfect photo, the next Helena is hanging from the cliff edge… A terrified Matthew almost misses Helena's sudden and shocking confession – but what he hears chills him to the bone. He is horrified, not only by what she's done, but why she did it. Does Matthew really know her at all? Back in England, it becomes clear that someone else overheard and is ready to blackmail the pair. How far is Matthew prepared to go to protect his 'perfect' girlfriend? Find out when Keep Her Secret by Mark Edwards is published on 30 May.
Order now on Amazon or Bookshop.org
The Silent Bride by Shalini Boland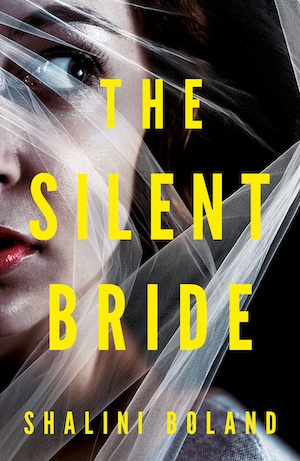 Alice and Seth are madly in love, and she can't wait to marry her handsome doctor. But as she glides down the aisle in the dress of her dreams, Alice's day is about to turn into a nightmare. Because when she arrives at the altar, Alice doesn't recognise the man waiting to marry her. When this stranger insists he's Seth, her husband-to-be, the entire congregation seems to agree. Even her parents try to persuade Alice to go through with the wedding. Where is the real Seth? Or did she make him up? Fearing she is losing her mind, Alice sets out to uncover the truth. The Silent Bride by Shalini Boland is out on 31 May.
Order now on Amazon or Bookshop.org
Click here to read about last week's new crime novels.