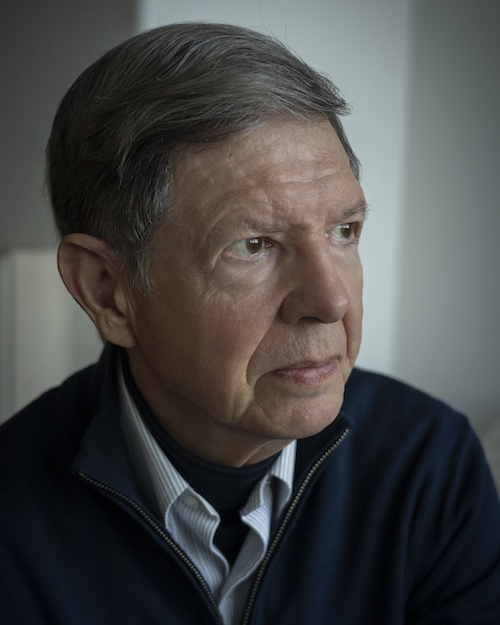 Separated from the US mainland by thousands of miles of ocean, and with its own identity and culture, the state of Hawai'i is an intriguing setting for crime novels. It can be a wild and mysterious place, isolated and with ancient myths and legends. A former lawyer, Robert McCaw is a crime author who is fascinated with all things Hawai'ian and makes the most of the setting in his series featuring Koa Kāne, the chief detective in Hilo, a town on the Big Island. On 6 June, Robert will be releasing Retribution, the fifth novel in the series, which began with Death of a Messenger.
To find out more about Robert, his books and Koa, we invited the author to join us on the Crime Fiction Lover sofa. If you enjoy police procedurals set in exotic locations, then Retribution will be just the thing.
First of all, can you tell us more a little about yourself and how you got into writing crime novels?
I grew up in a military family traveling the world, attended Georgetown University, and earned my law degree at the University of Virginia. After clerking for Justice Hugo L Black on the US Supreme Court, I practiced civil and criminal law for years with a world-class law firm. While visiting Hawai'i in the mid-1980s, I fell in love with the Big Island's geology, history, culture, and language. I wanted to share my appreciation of Hawai'i and chose the mystery genre as my format.
What do you think crime fiction lovers will love about Retribution?
Retribution is a fast-paced mystery/thriller with a vibrant Hawai'ian setting. Protagonist Koa Kāne, Chief Detective in the Hilo police force, faces a complex coordinated attack by well-financed assailants on himself, his family and his law enforcement colleagues. Hampered by a hostile mayor and infighting within the police department, stopping the carnage requires all of Koa's skills and enormous tenacity.
Retribution is about tenacity and loyalty – Koa's tenacity in the face of long odds and the loyalty of his loved ones and colleagues through perilous times.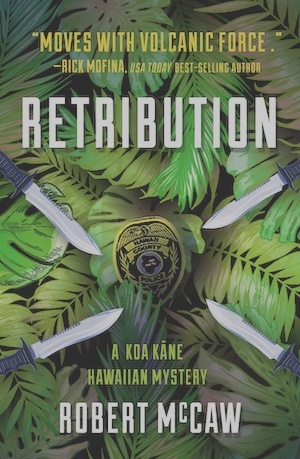 Who is Koa and how has he developed over the previous four books?
Koa is a police officer with a criminal past of his own. As a teenager, he fought and accidentally killed the man responsible for his father's death. Rather than risk the consequences, he successfully concealed the crime as a suicide. This experience, compounded by the death of his closest army buddy, motivates Koa's need to seek justice for crime victims. At the same time, his history gives him a rare insight into the criminal mind, making him an especially effective police officer.
In Retribution, his brother Ikaika becomes a murder suspect straight away and his colleague Makanui is the target of a sniper. What kind of relationship does Koa have with these two characters?
Koa has vastly different relationships with his brother Ikaika and his fellow detective Makanui. He recruited Makanui after she left the Honolulu police anti-terror group, and they share the same deep-rooted compulsion to pursue those guilty of crimes.
Ikaika, a troubled teenager and adult career criminal, had a tortured relationship with Koa until Ikaika collapsed in jail and required medical attention. When doctors discovered that Ikaika had two slow-growing frontal lobe tumors, Koa came to understand that his brother's medical problems, not evil intentions, propelled Ikaika's criminal conduct. After surgery to remove Ikaika's malignancies, the brothers' relationship changed dramatically for the better. 
Can you tell us more about the bad guys and what Koa is up against?
The identity of the bad guys is one of the many mysteries in Retribution. Has one of Ikaika's many enemies tried to frame him? Did a vicious felon recently released from prison attack Makanui? Are the Philippine pirates that Makanui attacked after she ransomed her parents out for revenge? Is the Hawai'i mayor trying to place his hand-picked candidate in Koa's job? Or is one of Koa's enemies seeking the ultimate revenge? You'll have to read the book to find out.
Why did you choose Hawai'i as your setting when the series began with Death of a Messenger?
I became enamoured with the Big Island of Hawai'i after first visiting in the 1980s. I thought the dramatic volcanic landscapes, the fascinating history of its tumultuous relationship with the US, its enormous ethnic diversity, and its beautiful lyrical language would make the setting itself a virtual character interacting with the human players in this unique place.
Is there a side to Hawai'i and the Big Island most people don't know about, that you are able to bring forward here?
Most people associate Hawaii with beaches, palm trees and hula dancers along the Waikiki strip on the island of Oahu. Yet, Hawaii is so much more. Most people don't know that the Big Island has some of the country's largest cattle ranches. Few appreciate that the islands have six of the world's climatic zones, ranging from rainforests to deserts. Many readers are surprised to know that Mauna Kea was one of the few, if not the only, places in the tropics that were glaciated during the ice ages and still features snow during most winters. And so much more . . . .
How do you research your novels, and how much does your background in law come into play?
I am fond of saying that for a novelist, life is research. I collect scenes from the places I visit, often taking cell phone photographs so I can remember the details. Many of my characters are adaptations of people I've met. My legal experience, particularly in criminal cases, is significant in lending authenticity to courtroom scenes and some aspects of police procedures.
What other authors, especially, crime authors, have inspired you and why?
I am a great fan of Raymond Chandler, Michael Connolly, Barry Eisler, Craig Johnson and Daniel Silva, to name a few of my favorite crime writers. I also gravitate toward authors like Jane Harper, Peter May, CJ Box, Joy Ellis, Greg Iles and James Lee Burke, who also use their settings as characters in their stories.
What's next for Robert McCaw?
I'm still regularly at my keyboard. Currently, I'm working on something different – neither Koa Kāne nor Hawai'i-related. But no spoilers. You'll have to wait to see how it pans out.
Retribution is available from 6 June and you can grab a copy using the buttons below.