Fans of Albert Brooks will not want to miss an insightful documentary in which he's interviewed by his best friend, Rob Reiner, about the seminal moment of his life.
For documentary fans, we also highly recommend The Lady Bird Diaries, which sheds light on the life in office of the former first lady of the United States, and JFK: What the Doctors Saw.
Big things are coming this week, including Monarch: Legacy of Monsters, which literally finds fabled giants in the realm of Godzilla coming to the small screen with an exciting new branch of the film series.
And if space sci-fi is your thing, Beacon 23 begins on Epix. See what else we recommend below!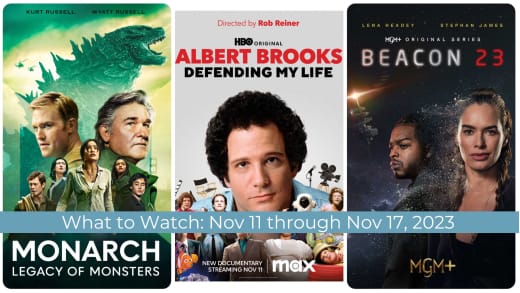 Saturday, November 11
8/7c Christmas Island (Hallmark)
Can you find the perfect Christmas if you don't usually celebrate it at all? What if you're stuck on, of all places, Christmas Island?
Andrew Walker aims to prove to Rachel Skarsten that miracles happen and Christmas magic prevails in the latest Hallmark Saturday movie.
Be sure to check out our interview with Christmas Island scribe Samantha Herman, too!
8/7c Albert Brooks: Defending My Life (HBO)
Albert Brooks is one of those creatives who can change the world, and he can change your life on an individual level, too.
His intuitive peeks into human nature have made him much more than a comedian. His insight into daily existence is downright profound. I personally count some of his movies as the very best.
Now, his best friend Robert Reiner gathers thoughts from Brooks' peers and contemporaries to cast a light onto his creative genius, with plenty of insight from Brooks himself to drive it home.
8/7c Devil On My Doorstep (Lifetime)
Jenna Dewan stars in this juicy thriller that will keep you on the edge of your seat!
You can consider this an obsession inception when a social media influencer becomes the object of a delivery driver's obsession only for the person he stole the route from to become obsessed with his obsession.
You're going to have to check out the trailer to understand this twisty ride!
9/8c All Rise (OWN)
With Mark and Amy's wedding on All Rise's series finale, it's time for the bachelor and bachelorette parties.
Drama ensues when Rachel invites Amy's estranged mom and sister without telling her. The Russians pull Mark from his party for yet another favor. When will he get help?
Luke and Tony Carver face off in court over a man who's been hurt by the system and keeps messing up.
Marky Mark ditched his date for Lola! We wonder where she is now 😂 #AllRise pic.twitter.com/eSo0S8pTIS

— All Rise (@AllRiseOWN) November 9, 2023
Sunday, November 12
8/7c A Heidelberg Holiday (Hallmark)
Hallmark takes us across the globe for their latest Hallmark original.
Heidi heads to the Heidelberg Christmas market to sell her hand-painted ornaments.
While there, she falls for a local artisan who helps her reconnect with her lost heritage.
9/8c Beacon 23 (Epix)
In this old-fashioned space drama, Aster (Lena Headey) and Halan (Stephan James) are drawn to Beacon 23 and face an onslaught of threats.
When an object called The Artifact appears, they begin to unravel its mysteries and develop a deep bond just in time to face a deadly artificial intelligence.
Isn't it nice when our greatest enemies are no longer human? Oh, wait. That's been going on for a while, hasn't it?
Monday, November 13
The Lady Bird Diaries (Hulu)
Documentary fans with a love of history will not want to miss The Ladybird Diaries, which offers first-hand insight into Lady Bird Johnson's time in the White House when her husband was president.
This unique film uses Lady Bird's own audio diary to denote one of the most turbulent times in US history during and after the assassination of President John F. Kennedy.
Lady Bird's insight into the life of a First Lady is invaluable, and her contributions to our history come to light beautifully through her own words and archival video.
Tuesday, November 14
8/7c Quantum Leap (NBC)
So who's up for fighting some Nazis?
Ben leaps into 1955, and his mission is to keep one of Einstein's greatest secrets, the key to nuclear fusion, from the enemies who could weaponize it.
With Jenn as his holo-guide and waitress Hannah (recurring guest star Eliza Taylor) at his side, the future of the world hangs in the balance of this leap!
8/7c NCIS: Sydney (CBS)
One of the few good things to come out of the Hollywood strikes is that broadcast viewers will get to watch this latest NCIS spinoff.
Also, it will mark the first series in the franchise that may require subtitles.
Finally, it's the only NCIS that viewers will get to enjoy this calendar year.
Wednesday, November 15
9/8c Magnum P.I. (NBC)
On its downhill run, Magnum returns after being knocked off the air for a week by Republican also-ran Presidential candidates.
Thomas and Juliet do their good deed of the week, helping a teenage Amish boy who comes to Hawaii searching for his missing sister.
Rick tries to help T.C. find a date for the Marine Corps Ball. Does that mean Mahina is totally out of the picture? We hope not.
Black Cake (Hulu)
Byron and Benny have been on a heck of a journey, learning about Covey's journey to becoming Eleanor.
We've learned a bit about Benny, but will we learn more about Byron? Respectfully, it's evident the present isn't as intriguing as Covey and the past, but we shall see.
The two siblings must reconcile with some of their demons on an all-new Black Cake!
JFK: What the Doctors Saw (Paramount+)
With the 60th anniversary of President Kennedy's assassination this November, there is a lot of content investigating this seminal moment in history.
In JFK: What the Doctors Saw, previously unreleased footage unveils an extraordinary reunion involving seven doctors who were present in the Parkland Hospital Emergency Room where the President was rushed after being shot on November 22, 1963.
Their testimonies divulge unsettling medical details surrounding the assassination, raising doubt about government investigations that found Lee Harvey Oswald acted alone.
A Murder at the End of the World (Hulu)
A Murder at the End of the World takes viewers to an icy remote location where eight guests of a reclusive billionaire are gathered to ponder saving the world from devastation.
When one of the guests winds up dead, hacker Darby Hart is determined to find out why, how, and who murdered one of their own.
This isn't the best work FX has put out, and despite mostly positive reviews, there isn't much new here, as we've seen quirky hackers turned detectives more times than we care to count.
Thursday, November 16
Best. Christmas. Ever. (Netflix))
We've all had that old friend that we envy because their holiday cards make their life seem perfect.
When Charlotte (Heather Graham) and her husband Rob (Jason Biggs) drop in on her college roommate Jackie (Brandy), she's determined to prove Jackie's life isn't picture-perfect.
Can these old friends survive this old rivalry and rekindle their friendship in time for the holidays?
8/7c A World Record Christmas (HMM)
Inspired by the true story of Auldin Maxwell, who holds the world record for stacking Jenga blocks.
At Christmastime, an autistic teen who attempts to set the Guinness World Record for stacking Jenga blocks brings his community and family together for a holiday they'll never forget.
A World Record Christmas is inspired by the true story of Auldin Maxwell, who currently holds the world record he sought to achieve.
Nikki DeLoach and Lucas Bryant star as the boy's parents, who urge him to make his dream come true.
9/8c Transplant (NBC)
Like parents everywhere, Bash isn't sold on Amira's dream of being a star in a showdown that's been brewing all season. At work, Bash must find a way to handle a diabetic woman who is overly dependent on her young son. Mags chafes against her new world as she recovers from cardiac surgery.
Friday, November 17
EXmas (Freevee) )
Leighton Meester and Robbie Amell star in this hilarious rom-com about exes who unexpectedly both find themselves at his parents for the holidays.
They're surrounded by Graham's (Amell) larger-than-life family, who value Christmas and family more than anything. While Graham and Ali (Meester) initially spar, they eventually realize the true spirit of the holidays.
Fellow Travelers (Paramount+ with Showtime)
With Senator McCarthy revealing his investigation into the Army, Hawk's mission to gather evidence picks up some steam.
Will he be able to get the evidence to the right person in the nick of time?
Meanwhile, Hawk and Tim's relationship in the present changes when Hawk agrees to stay in San Francisco for the week.
Is there a future for them?
Monarch: Legacy of Monsters (Apple TV+)
Following the thunderous battle between Godzilla and the Titans that leveled San Francisco and the shocking revelation that monsters are real, Monarch: Legacy of Monsters tracks two siblings following in their father's footsteps to uncover their family's connection to the secretive organization known as Monarch.
Clues lead them into the world of monsters and ultimately down the rabbit hole to Army Officer Lee Shaw (played by Kurt Russell and Wyatt Russell), taking place in the 1950s and half a century later when Monarch is threatened by what Shaw knows.
Based on the Monsterverse from Legendary, the series stars Kurt Russell, Wyatt Russell, Anna Sawai, Kiersey Clemons, Ren Watabe, Mari Yamamoto, Anders Holm, Joe Tippett, and Elisa Lasowski.
This dramatic saga — spanning three generations — reveals buried secrets and the ways that epic, earth-shattering events can reverberate through our lives.
8/7c Navigating Christmas (Hallmark)
Lighthouses always bring home, though Melanie and her teenage son Jason weren't feeling lucky when they saw it was not as charming as they'd hoped.
But decorating the lighthouse for the Christmas festival turns out to be an interactive experience and brings the two closer together and allows a local Peter to open up about the lighthouse's secrets.
Will the magic of the lighthouse allow the three of them to have a new beginning?
Carissa Pavlica is the managing editor and a staff writer and critic for TV Fanatic. She's a member of the Critic's Choice Association, enjoys mentoring writers, conversing with cats, and passionately discussing the nuances of television and film with anyone who will listen. Follow her on X and email her here at TV Fanatic.